Academic Life
1. Admission Rate
Depending on how you performed in high school and on the SAT, you may want to apply to schools with higher or lower admission rates. If you aced everything in your academic history, you have a better chance for acceptance at the schools with lower admission rates. On the other hand, if your academic history is less than perfect, make sure you apply to some schools that have a higher admission rate, just in case.
Motley Fool Stock Advisor recommendations have an average return of 618%. For $79 (or just 800.52 per week), join more than 1 million members and don't miss their upcoming stock picks. 30 day money-back guarantee. Sign Up Now
2. Graduation Rate
Graduating from college is definitely more important than getting accepted. Without graduation, what's the point of being accepted in the first place? When considering a college, review the percentage of students who complete the full program.
3. Freshmen Retention Rate
Another metric to consider is the freshmen retention rate, which explains what percentage of freshmen return for their sophomore year. A high retention rate indicates overall student satisfaction with their first year experience at that school. It also indicates that few students failed their freshmen year, a crucial time for students trying to adjust to college life.
4. Student to Faculty Ratio
There were 700 students in my very first class at the University of Florida. Needless to say, I never actually got to meet the professor, or get any personal attention or help. Luckily, most of my other classes had fewer students. If I had known that the average class size at the University of Florida was much less than 700, I probably wouldn't have been so unnerved during my first day at school. If you want or need one-on-one assistance from your professors, examine the student to faculty ratio very closely.
5. School Size
Even if the student to faculty ratio is reasonable, analyze the overall size of the school. This can play a huge role in your comfort level, and in how well you fit in. A large school may be overwhelming for some students, but a small school may be underwhelming for others. Do you want to recognize everyone on campus, or do you want to have more privacy?
6. Graduate/Professional School Options
If you have high aspirations of going on to a graduate or professional school, such as law school or medical school, investigate what percentage of four-year college graduates pursue another degree. This metric gives you some insights about whether the school adequately prepares students for continuing their education, and insights into the probability of follow-through for your academic goals.
7. Jobs Right Out of School
If you worry about finding a job when you finish school, consider the percentage of students who receive a job right after graduation. Some schools have excellent job placement programs, assisting their students in making the transition from student to employee, and helping them find jobs after graduation.
8. Curriculum
Different schools offer different programs with their curriculum. For example, as an Engineering student, I had a set of classes that I was required to take, with little deviation apart from electives. Some other schools, such as Brown University, have a more open curriculum, allowing students to have much greater flexibility with the courses they take.
9. Course Availability
I often see advertisements for schools that provide night and weekend courses. Depending on your availability, you may need to choose a school that has those options. These types of schools make it possible for those who must work full-time jobs to also pursue an education. Taking classes at night, on the weekends, or online, is also an excellent way to earn a graduate degree (e.g. MBA business degree program)
10. Quality of Professors
Does the college have highly qualified professors, or do the professors seem to be amateurs? To make sure you are getting the best possible education, you need to study with highly educated professors that not only have experience teaching, but also real-world skills.
For example, a large number of professors at Miami University in Ohio attended Ivy League schools. Many professors at the university also have real-world training, and at least one urban planning professor works for the city government. Students in his class created a project that mimicked a project the professor had worked on for the city.

As an example, USF may be an ideal choice if you're a sun worshipping urbanite. Our average temperature is 70-90 degrees, and the greater Tampa Bay metro area offers countless cultural, recreational, internship, service-learning, and employment opportunities, along with some of the top beaches in the country. It's perfect for those who love the sunshine and city life, but not so ideal for ski enthusiasts or those who prefer the rolling countryside.
Residence Halls: What types of halls are available – singles, doubles, suite-style, apartment style? How much do they cost? Who is eligible? Are there communities for like-minded students (same major, special interests, etc.)?
Dining Halls & Restaurants: What kind of meal plans are available? Where can you eat with the meal plan? Are there restaurants on campus or only dining halls? Do they accommodate special diets such as vegan or gluten-free?
On-Site Services: Are you able to get medical care right on campus? Does the college offer an on-campus pharmacy, counseling center, bank, grocery store or other needed services?
Recreation Opportunities: Does the college have a rec center? What type of equipment do they have? Are fitness classes offered? Is there a pool, basketball court, track or other amenities that interest you? Are there other recreation opportunities on campus?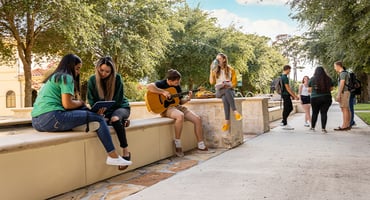 Affordability
For many students, cost is a major factor in the college search. When it comes time to pick a college, you want to make sure the school fits your budget, even after accounting for fees and living expenses.
According to the National Center for Education Statistics, the average public university costs over $20,000 per year, while private universities cost nearly $45,000 per year. On top of tuition, fees, and room and board, students should also consider the area's cost of living and expenses like transportation, extracurriculars, and entertainment.
Prospective students should also research financial aid, as scholarships, grants, and fellowships can lower the cost of a college degree. Many students also rely on loans to help pay for college. Distance learning students can qualify for online financial aid.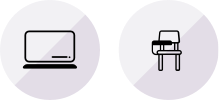 Location
Location may figure prominently in your college search. Some students prefer an urban college in the center of a major city, while others want a rural, small-town college experience. Some students prefer sticking close to home, while others want to explore a new place.
Location also affects your ability to receive state financial aid, including grants that support state residents. Prospective applicants should check the most affordable colleges in their state to see how much they can save at an in-state school.
Prospective applicants should also determine whether they are willing to move out of state to attend college or if they would prefer a school close to home. Working professionals, adult learners, and students with families may want to consider online programs, which allow them to attend college without relocating.

Disclosing disability at admissions
Why disclose your disability? One reason is that your disability has influenced your approach to learning, your determination, and many other things in your life. What you have learned about yourself and how you have dealt with your disability may say volumes about the kind of person and student you are.
If you are below a minimum standard (or somewhere below average) requesting colleges to consider additional or alternative information is reasonable. The goal of this kind of request is to have the college consider a substitute measure or to take additional information into consideration.
Some colleges have a formal process for these kinds of requests while others do not. You should check with the disability services office about formal procedures. You may submit this kind of request even if there is not a formal process in place.
Typical admissions standards
Four units of English
Ability to produce a final written product (directly, utilizing adaptive technology, or utilizing alternative media)
Ability to comprehend material in print or alternative media (tape, etc.)
Basic familiarity with forms and styles of literature.
Three Units of Mathematics (Geometry, Algebra I, Algebra II)
Computational mathematics skills covering basic arithmetic through single variable algebra.
Application of linear reasoning to a constrained set of facts.
Symbolic manipulation.
Ability to learn and apply an abstract system of complex rules.
Three Units of Science (including a laboratory science
Basic understanding of key elements in scientific method.
Ability to make predictions based on a theory.
Ability to make and test predictions based on collected observations.
Ability to observe and describe the physical world.
Two Units of Foreign Language
Familiarity and exposure to alternative cultural perspectives.
Ability to learn and apply an abstract system of complex rules.
Symbolic Manipulation.
Three Units of Social Studies
Basic understanding of historical and social forces that have influenced current culture.
Basic understanding of the relationship between society and the individual.
One Unit of Fine or Practical Arts
Appreciation for and an understanding of the process of creating aesthetic or functional objects. b) Understanding of the relationship between design, function, and societal values.
Two Units of Health & Physical Education
Understanding of health and wellness issues as they relate to life style choices.
Appreciation for the physical nature of oneself and the environment.
Grade Point Average
Level of accumulated knowledge and skills acquired through high school.
Predictor of the level of success in college.
Indicator of motivation and consistency of performance across time and subject area.
Rank In High School Senior Class
Normative measure of academic potential.
Indicator of relative academic competitiveness (motivation and ability) over time.
SAT- I /ACT
Non-native predictor of ability to succeed in college.
Measure of academic potential or aptitude.
Measure of academic achievement.
To evaluate requests for accommodation or auxiliary aids a college will need documentation of the disability. Various colleges define what specific documentation is required differently. You should check on the requirements of the colleges you are interested in and discuss any updating of your documentation that may be necessary when you are developing your Transition Plan. The guidelines below are likely to be acceptable by most institutions.
Resources:
https://www.moneycrashers.com/factors-choose-college/
https://admissions.usf.edu/blog/top-factors-to-consider-when-choosing-a-college
https://thebestschools.org/resources/how-to-pick-a-college/
https://www.ldonline.org/ld-topics/college-college-prep/choosing-college