We've all been there: sitting at your desk with an urgent deadline and a wandering mind. Despite your best efforts, things are not progressing. You need to focus on the task in front of you. You're motivated to do it. But you just can't concentrate.
Focus: What It Is and How it Works
First things first. What is focus, really? Experts define focus as the act of concentrating your interest or activity on something. That's a somewhat boring definition, but there is an important insight hiding inside that definition.
Focus can only occur when we have said yes to one option and no to all other options. In other words, elimination is a prerequisite for focus. As Tim Ferriss says, "What you don't do determines what you can do."
Of course, focus doesn't require a permanent no, but it does require a present no. You always have the option to do something else later, but in the present moment focus requires that you only do one thing. Focus is the key to productivity because saying no to every other option unlocks your ability to accomplish the one thing that is left.
Before we talk about how to get started, let's pause for just a second. If you're enjoying this article on focus, then you'll probably find my other writing on performance and human behavior useful. Each week, I share self-improvement tips based on proven scientific research through my free email newsletter.
Why Can't I Focus?
What I mean is that most healthy humans have a brain that is capable of focusing if we get the distractions out of the way. Have you ever had a task that you absolutely had to get done? What happened? You got it done because the deadline made the decision for you. Maybe you procrastinated beforehand, but once things became urgent and you were forced to make a decision, you took action.
What is impossible, however, is concentrating on two tasks at once. You're either listening to the TV and the overflowing pot of pasta is background noise, or you're tending to the pot of pasta and the TV is background noise. During any single instant, you are concentrating on one or the other.
Multitasking forces your brain to switch your focus back and forth very quickly from one task to another. This wouldn't be a big deal if the human brain could transition seamlessly from one job to the next, but it can't.
Have you ever been in the middle of writing an email when someone interrupts you? When the conversation is over and you get back to the message, it takes you a few minutes to get your bearings, remember what you were writing, and get back on track. Something similar happens when you multitask. Multitasking forces you to pay a mental price each time you interrupt one task and jump to another. In psychology terms, this mental price is called the switching cost.
Switching cost is the disruption in performance that we experience when we switch our focus from one area to another. One study, published in the International Journal of Information Management in 2003, found that the typical person checks email once every five minutes and that, on average, it takes 64 seconds to resume the previous task after checking your email.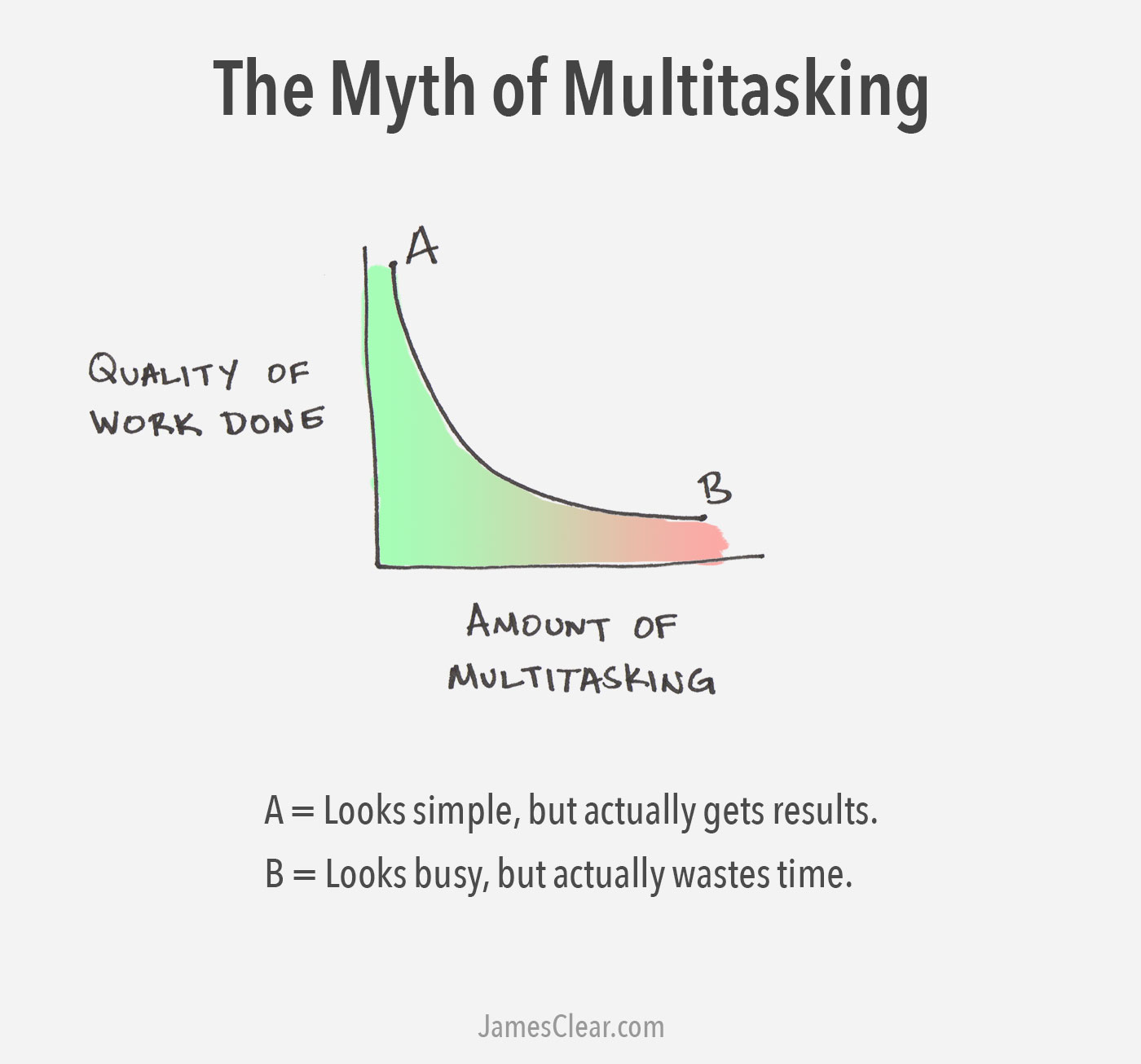 The myth of multitasking is that it will make you more effective. In reality, remarkable focus is what makes the difference. (Image inspired by Jessica Hagy.)
What is concentration?
In Will Power & Self Discipline, Remez Sasson wrote that concentration is the ability to direct one's attention following one's will. Concentration means control of attention. It is the ability to focus the mind on one subject, object, or thought, and at the same time exclude from the mind every other unrelated thought, ideas, feelings, and sensations.
That last part is the tricky part for most of us. To concentrate is to exclude, or not pay attention to, every other unrelated thought, idea, feeling, or sensation. To not pay attention to the numbers, beeps, and other indicators that we have a new message, a new update, a new "like," a new follower!
Our daily routine is dominated by switching in and out of our mobile phones and computer. We get a constant influx of messages from WhatsApp, email, Telegram, and the half-dozen other apps that are somehow critical to our job. We constantly search for information to help solve our daily problems or get our work done.
Frequent distractions affect productivity. It takes longer to finish a task. We don't listen as well. We don't comprehend things as well, whether with our partner or with colleagues, and end up in misunderstanding, misinterpretation, and conflict. It affects memory. We forget things or can't recall information promptly which affects our personal life and professional image.
Live in the Moment
You have probably heard people talk about the importance of "being present." It's all about putting away distractions, whether they are physical (your mobile phone) or psychological (your anxieties) and being fully mentally engaged in the current moment.
This notion of being present is also essential for recapturing your mental focus. Staying engaged in the here and now keeps your attention sharp and your mental resources honed in on the details that really matter at a specific point in time.
It may take some time but work on learning to truly live in the moment. You cannot change the past and the future has not happened yet, but what you do today can help you avoid repeating past mistakes and pave a path for a more successful future.
Practice Mindfulness
Mindfulness is a hot topic right now, and for good reason. Despite the fact that people have practiced forms of mindfulness meditation for thousands of years, its many health benefits are only recently starting to be understood.
These tasks had to be completed in 20 minutes and included answering phones, scheduling meetings, and writing memos with sources of information pouring in from multiple sources including by phone calls, emails, and text messages.
Quick Tip to Regain Focus
Start by taking several deep breaths while really focusing on each and every breath. When you feel your mind naturally begin to wander, gently and uncritically guide your focus back to your deep breathing.
While this might seem like a deceptively simple task, you may find that it is actually much more difficult than it appears. Fortunately, this breathing activity is something you can do anywhere and anytime. Eventually, you will probably find that it becomes easier to disengage from intrusive thoughts and return your focus to where it belongs.
References:
https://jamesclear.com/focus
https://www.betterup.com/blog/15-ways-to-improve-your-focus-and-concentration-skills
https://www.verywellmind.com/things-you-can-do-to-improve-your-mental-focus-4115389
https://www.lifehack.org/articles/productivity/how-to-improve-your-concentration.html